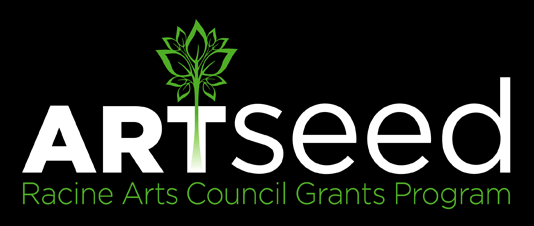 ArtSeed Grant Program
​
Our ArtSeed grant program encourages and enhances the arts in the Racine area and fosters excitement, support and growth in the arts in our community. Artists from Racine County may apply for an ArtSeed grant to help fund projects.
ArtSeed Goals:
The purpose of the ArtSeed grant program is to encourage and enhance the arts in the Racine area and to foster excitement, support and growth in the arts in our community.
Racine Arts Council seeks projects or programs that meet the following objectives:​
To encourage new, innovative and/or experimental programs or projects based in the arts
To assist small arts groups as well as individuals interested in the arts with such programs or projects
Proposals which involve partnerships and collaborations are of particular interest. Examples of typical partnerships/collaborations include those between artists, between artists and non-profit organizations, and between non-profits (including educational and governmental entities). Applicants must be from Racine County, and proposed project activities should occur primarily within Racine County.
​
Who May Apply:​
Racine County Non-profit organizations with 501(c)3 status
Racine County Non-profit organizations without 501(c)3 status if they have documentation from a 501(c)3 organization stating their commitment to act as fiscal receiver
Individual artists living in Racine County
Both Public and Private schools in Racine County, if partnering/collaborating with an artist or arts program.

ArtSeed grant recipients are eligible to receive a grant for up to three years of consecutive funding. After sitting out a year, the recipient may apply again.
​
The ArtSeed Program Does Not Fund:
Projects not based in Racine County
Rent, Operational or Capital Improvement costs unless directly connected to the proposed program or project (in which case, contact RAC for guidance).
​
ArtSeed Grant Awards:
You may apply for ONE of the following grant award amounts:
Applicant must match the grant request at least 1:1 in either cash, in-kind services or a combination of both.
​
Timeline:​
Online Applications Available Now

Application Deadline Extended to April 15th, 2020

Grants Awarded: July
​
Application Process:
There are two parts to the ArtSeed Application Process:
1) Complete the online Application Form
​
​
2) Fill out the Project Budget PDF document then email the completed PDF to director@racineartscouncil.org.
You are encouraged to first complete the ArtSeed Grant Worksheet which has been designed to help you collect all of the necessary information before you begin the online application process. Once you are ready to begin the online application, you can simply copy and paste your information from the online worksheet into the fields of the online application. NOTE: The Worksheet is not required and will not be accepted as your application if submitted via email. It is a tool to help you gather your information. You can also go directly to the online application without using the worksheet.
​
​
​
Your application must include:
Applicant Name & Contact Information

Amount requested​

Completed Budget

Project Dates, including anticipated start and end date

​Description of Program or Project:
Project Title

Description: Include who will do what, when, and how

Goals and Objectives: What do you hope to achieve?

​Target Audience and Expected Reach: Who is the audience for your project? How may people do you plan to reach?

Community Impact: What effect will you project have on our community?
​
How Do I Know My Application Submission Was Successful?
RAC will send you a follow-up email after your application has been received. Please allow a minimum of 5 working days for confirmation.
Evaluation Process:
How will you determine success?

Promotional plans during the project period and/or upon completion:

How do you plan to promote your project/share your activities, solicit attendance, etc.?
​
Application Terms and Requirements:
The ArtSeed grant application must be completed in its entirety. Missing or inaccurate information may make the application ineligible for consideration.

If the project receiving funds is not completed by the expected date, the grantee must request (and be granted) an extension prior to the original completion date or return the funds.

The organization or individual receiving funding is responsible for all applicable taxes.
​
ArtSeed Grant Award Payments:
Successful grantees will receive a Grant Contract for execution and return to RAC.

Upon receipt of the executed Grant Contract, the grantee will receive 75% of their award.

Upon project completion and submission of a completed Grant Evaluation form, the remaining 25% will be distributed.​
​
ArtSeed Grant Evaluation Report:
Successful grantee will receive the remaining 25% of the grant award will be issued after the Grantee submits a satisfactory Final Grant Evaluation Report demonstrating that the goals of the project as outlined in the grant application and the reporting obligations have been met.
The Grantee must submit a Final Grant Evaluation Report to the Racine Arts Council by the 2019 ArtSeed Grants Program application deadline, May 1. 2020. If you plan to apply for a 2020 grant, your final report needs to be submitted by April 10th. Applications from organizations who have not filed final reports for past projects/grants will not be eligible for future grants.
​
This worksheet is to help you gather your information. Final reports must be submitted via our online form.
​
​
​
​
​
​
​
​
​
Funding for ArtSeed Provided By:
with funds from the State of Wisconsin